Background History of IEC: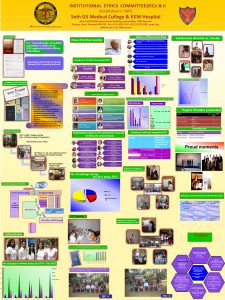 Dr. G. B. Parulekar Dean, Seth G. S. Medical College and K. E. M. Hospital, Mumbai constituted the Ethics Committee in 1987. Dr. S. M. Karandikar was the first Chairperson and Dr. S. A. Dahanukar was the first Member Secretary of this committee. The committee was reformulated in 1999 with the chairperson from outside the institution. In 2002 it was renamed as Ethics Committee for Research on Human Subjects (ECRHS). In November 2008, the Director ME & MH, Dr. Sanjay Oak constituted and launched an additional committee, Committee for Academic Research Ethics (CARE) to oversee ethical review of thesis and investigator initiated projects. The first meeting of CARE was held on 3rd December 2008.
The Strategic Initiative for Developing Capacity in Ethical Review (SIDCER) and Forum for Ethical Review Committees in Asia and the Western Pacific Region (FERCAP) conducted a survey visit in February 2009. In keeping with recommendations of the SIDCER surveyors, on 24th March 2009 a new SAE Subcommittee of the ECRHS was formulated with Dr. Urmila Thatte as Head of the SAE Subcommittee and Dr. Raakhi Tripathi as Executive Secretary. The first meeting of the SAE Subcommittee was held on 21st April 2009.
The Committees underwent a survey by the SIDCER and FERCAP on September 2012 for confirmation of recognition and both committees received the SIDCER rerecognition award for compliance to international standards in November 2012.
In keeping with recommendations of the SIDCER surveyors, the ECRHS and CARE were dissolved on 31st December 2012 by the Institutional head Dr. Sandhya Kamath and two new boards were constituted Institutional Review Board–I and II (IRB-I and IRB-II) from 1st January 2013. The SAE Subcommittee was also reconstituted from 1st January 2013.
Following registration with Drugs Controller General (India) [DCGI], the Institutional Review Boards (IRBs) I & II are renamed as Institutional Ethics Committee (IEC) I & II. The IEC–I was registered with DCGI with registration no. ECR/229/Inst./MH/2013 on 22nd April 2013 and IEC-II was registered with DCGI with registration no. ECR/417/lnst./MH/2013 on 6th August 2013.
IEC-I & IEC-II presently function according to the requirements laid down in Schedule Y and are guided by the ICH GCP guidelines, Ethical Principles set forth in the Declaration of Helsinki and the Ethical Guidelines for Biomedical Research on Human Participants laid down by the Indian Council of Medical Research.