Facilities Available
Physical facilities
NICU, Department of Neonatology, has bed strength of 42 and total area of 6275.50 sq. feet.
Areas
Type of Services
Cot strength
Inborn unit
Babies born in K.E.M. Hospital who are not infected are cared in Inborn unit.
13
Inborn and outborn unit
Babies born in K.E.M. hospital who are at risk of developing infection or babies transferred from other hospitals are managed here.
12
Transitional care unit
This section renders intermediate care to the neonates. The babies who do not require close and continuous monitoring are looked after here.
12
Advanced ventilation unit
The babies requiring advanced ventilatory care are closely monitored and managed in this section.
05
Mothers' resting area
Human Milk Bank
Kangaroo Mother Care Center
Inborn unit:
Transitional care unit: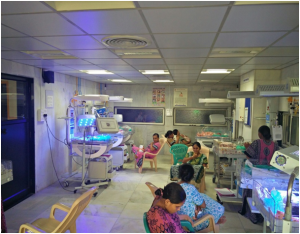 Inborn & outborn unit:
Advanced ventilation unit: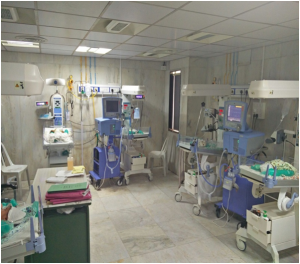 Human Milk Bank
HMB is an institution established for the purpose of collecting, screening, processing, storing & distributing donated human milk that is dispensed to recipients who are not the biological offsprings of the donor mother.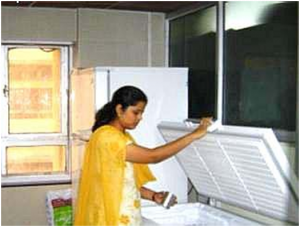 Mothers' resting area
Vatsalya is resting area for mothers whose babies are admitted in NICU
Kangaroo Mother Care (KMC) Center
The department is selected as the center of excellence for initiating KMC for Low Birth Weight babies in India. We are the first in the country to start Ambulatory KMC Center inaugurated on 15th August 2005. LBW infants discharged from NICU are regularly followed up for growth, neurodevelopmental status & early intervention therapy is instituted when required.
2. Patient Care Services
Neonatal Care: The department of Neonatology caters to over 7500 deliveries per year including high risk referrals, approximately 35% being LBW babies requiring special  care.

Neonatal Intensive Care services: Level III Neonatal Intensive Care Unit manages over 1800 – 2000 neonatal intensive care admissions per year. NICU is the major referral centre for babies from various municipal as well as private hospitals and maternity homes.
The facilities for providing advanced neonatal care are available in the unit. We ventilate approximately 225 – 250 babies annually. We have 2 High frequency ventilators, 12 class 1 ventilators, 2 Variable flow CPAP machines, & 8 Bubble CPAP machines. We practice patient triggered ventilation as well as High Frequency Ventilation. The sick neonates are closely monitored with multiparameter monitors, capnometers, transcutaneous monitors, and online airway graphics. These babies also receive total parenteral nutrition which is prepared under the laminar flow housed in the NICU. We have a facility for in house ultrasonography. We provide Total body cooling therapy & Nitric oxide therapy. We have facility to monitor cerebral function.
Humane Neonatal Care: The doors of NICU were opened for mothers of critically ill babies to get them actively involved and participate in the care of their babies. Humane Neonatal Intensive Care approach was established by observing an ideal NICU protocol for protection of babies from over stimulation and by observing the minimal handling protocol to reduce the NICU environmental stress related complications for optimal recovery and positive health of sick neonates.

Kangaroo Mother Care: Our babies receive Kangaroo Mother Care in the NICU as a part of Developmental Supportive Care program & this has made significant impact in reducing duration of hospital stay, morbidity & mortality in these VLBW babies.

Human Milk Bank services: For better survival of preterm and low birth weight babies, it is very important that we guarantee a constant and adequate supply of human milk. Today a more controlled system of to ensure the availability of bacteriologically safe milk exists in form of HMB. HMB is possible as there are mothers whose lactation exceeds the requirements of their infants.

Follow up care program: We believe in well organized and multidisciplinary follow up care program for better neurodevelopmental outcome of high risk NICU graduates. We run a special High risk OPD and Kangaroo Mother Care Center where these babies are followed up longitudinally for a period of 5 years. Hearing and visual assessment is done in the center itself by the experts for all high risk babies and early intervention therapy is instituted when indicated.
Department of Neonatology, Seth GSMC & KEMH, Mumbai
Year-wise clinical data:
| | | | | | | |
| --- | --- | --- | --- | --- | --- | --- |
| | 2012 | 2013 | 2014* | 2015* | 2016* | 2017* |
| Total No. of deliveries | 8182 | 8575 | 6780 | 6780 | 6512 | 611 |
| Total No. of Births | 8372 | 8796 | 6902 | 6920 | 6645 | 631 |
| Total Live Births | 7990 | 8383 | 6598 | 6559 | 6336 | 606 |
| Still Births | 382 | 413 | 304 | 363 | 309 | 25 |
| Twins | 180 | 197 | 113 | 123 | 124 | 20 |
| Triplets | 6 | 12 | 3 | 7 | 5 | 01 |
| Male | 4412 | 4303 | 3535 | 3544 | 3354 | 309 |
| Female | 3958 | 4077 | 3354 | 3368 | 3282 | 322 |
| Ambiguous genitalia | 4 | 3 | 13 | 8 | 9 | 0 |
| Preterm | 2156 | 1723 | 1537 | 1558 | 1572 | 164 |
| Term | 6180 | 6631 | 5332 | 5343 | 5042 | 466 |
| Post term | 35 | 26 | 33 | 19 | 31 | 1 |
| LBW | 3594 | 3239 | 2493 | 2644 | 2419 | 239 |
| HRLBW | 1427 | 1131 | 1007 | 1020 | 977 | 108 |
| VLBW | 770 | 530 | 473 | 521 | 540 | 61 |
| ELBW | 302 | 137 | 205 | 233 | 232 | 14 |
*NICU renovation period
Department of Neonatology, Seth GSMC & KEMH, Mumbai
| | | | | | |
| --- | --- | --- | --- | --- | --- |
| | 2012 | 2013 | 2014 | 2015 | 2016 |
| PNMR | 43.74 | 45.57% | 40.31 | 46.64 | 36.8 |
| EPNMR | 69.12 | 69.68% | 60.17 | 70 | 56.66 |
| CPNMR | 41.14 | 44.87% | 37.92 | 45.29 | 34.46 |
| NMR | 21 | 20.13% | 16.90 | 14.7 | 9.63 |
| ENMR | 17.05 | 17.34% | 12.29 | 13.15 | 8.18 |
| CNMR | 18.33 | 19.40% | 14.44 | 13.3 | 7.22 |
| SBR | 27.13 | 29.08% | 28.37 | 33.93 | 28.84 |