Department of Physiotherapy School and Centre
Welcome to the Department of Physiotherapy
VISION:
To promote excellence in Patient care, Education & Research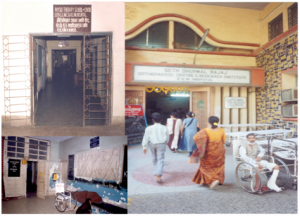 Physical therapy provides services to individuals to develop, maintain and restore maximum movement and functional ability throughout the life span. This includes providing services in circumstances where movement and function are threatened by ageing, injury, pain, disease, disorders, conditions or environmental factors. Functional movement is central to what it means to be healthy.
Physical therapy is concerned with identifying and maximising quality of life and movement potential within the spheres of promotion, prevention, treatment, habilitation and rehabilitation.
Physical therapists are qualified and professionally required to:
-Undertake a comprehensive examination/assessment of the patient/ client or needs of the client group.
– Evaluate the findings of assessment to make clinical judgement regarding the patients/clients.
– Formulate a diagnosis, prognosis and determine when patients/clients needs to be referred to another health care professional.
– Implement a physical therapy intervention/treatment program
– Determine the outcome of any intervention/treatments.
– Make recommendation for self management.
WCPT (World Congress for Physical Therapist)
Poster: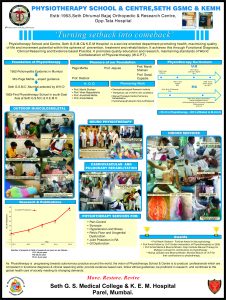 The Physiotherapy Department has its own school which conducts Bachelors and Masters Degree Programs in Physiotherapy. The Department provides Physiotherapy services for both inpatients and outpatients.
Educational Courses: Affiliated to MUHS
Eligibility Criteria:
The prerequisite for the under graduate course is HSC in science faculty and an eligible score at the state level medical entrance examination.
The prerequisite for Post graduation course is eligible score at PG CET conducted by MUHS.
The prerequisite for Ph.D course is eligible score at PET conducted by MUHS.
1.  Undergraduate: B.P.Th  – 40 seats
2.  Postgraduate: M.P.Th   –  20 seats (Total)
M P Th Musculoskeletal Sciences        –  08
M P Th Neuro Sciences                          –  06
M P Th cardiovascular & Respiratory Sciences  –  06
3.   Ph.D                           06 seats
Faculty
Faculty of Physiotherapy

Ms Amita Mehta
Prof & HOD
Ms Saraswati Iyer
Professor
Ms Chhaya Verma
Professor
Ms Bhavana Mhatre
Associate Professor
Ms Jaimala Shetye
Associate Professor
Ms Mariya Jiandani
Associate Professor
Ms Archana Gore
Assistant Professor
Ms Jyotsna Thosar
Assistant Professor
Ms Lakshmiprabha Rangarajan
Assistant Professor
Ms Dipti Geete
Assistant Professor
Ms Swati Paranjape
Assistant Professor
Ms Sushama Gajakos
Assistant Professor
Ms Rupali Deshpande
Assistant  Physiotherapist
Ms Shilpa Naik
Assistant  Physiotherapist
Ms Sarika Pajai
Assistant  Physiotherapist
Ms Poonam Patil
Assistant  Physiotherapist
Mr Shardul Ganvir
Junior Physiotherapist
Ms Shabana Kazi
Junior Physiotherapist
Ms Esther Katarnavare
Junior Physiotherapist
Ms Apeksha Ingle
Junior Physiotherapist
Non Teaching Staff
1.
Administrative Officer
Mrs. Anagha Patwardhan
2.
P A
Mrs. Shilpa Kotwaliwale
3.
Head Clerk
Mrs. Kalyani Naik
4.
Academic clerk
 Mr. Namdev Matkar
5.
 Typist/ Clerk
Mr. Chandrashekhar Mokashi
6.
Regitration Assistant
Mr.Tushar Shetye
7.
Record Asst
Mrs. Shruti Gawde

Mr. Shreekant Lahulkar

8.
Chief Librarian
Mrs. Madhuri Kochikar
9.
Asst. Librarian
Mrs. Snehalata  Ghule
10.
Store Keeper
Mr. Sunil Khadtare
11.
Accountant
Mr. Barwe
12.
Account clerk
Mr. Chavan
13.
Peon
1. Mr. Ganesh Aheer

2.Mr. Ramesh Karpe

3. Mr. Neelkant Gore

14.
Sweeper
Mr. Vishwas Butkar
Facilities, Equipments & Special services:
Facilities:
UG (Departmental library for all UG students)
PG (Department library + Library of books donated by the department staff)
CD library for Teachers/PG students
Lecture Theatre with LCD, OHP & Slide Projector (Capacity -80)
Well Equipped Laboratories for Practice of Clinical skills
Activities 2015-2016:
MUHS activities – Scientifica
Orientation Programme for UG, Interns , PG and Ph.D.
Workshop on bioethics and Communication skills
Ethical Physical therapy Practice & Research
Research Methodology
Training in Education technology – PG and Faculty
Continuous Physiotherapy Knowledge & Skill training
Cultural activities – Inter -College Participation

Posters
Debate
Rangoli, Mehandi & Drawing
Paper Craft
Dramatics
Dance
Essay Writing
AWARDS & HONOURS
Amita Mehta:
Post graduate & PhD guide approved by Maharastra University of health sciences, Nashik
Member of anti-ragging committee
FAIMER Fellow 2006
Fellow of IAP 2009
Invited by prestigious institutions and organisations for lectures & seminars on women's health, health promotion and fitness, cardiac rehabilitation.
Saraswati Iyer
Inspector for NAAC
Member of BOS for UG, PG courses at D Y Patil, Pune
Member of BOS for UG, PG courses at Krishna Medical college, Karad.
Approved PhD guide at MUHS, Nashik
Chhaya Verma
Member of board of advisory committee at National Burn Centre, Navi Mumbai
Member of BOS for UG and PG courses in Physiotherapy at MGMIMS, Navi Mumbai
Member of BOS for UG and PG courses in Physiotherapy at Pad D Y Patil Medical University Nerul
Appointed as reviewer for British journal of Medicine and medical research
Appointed as reviewer by Journal review department (educational research and reviews
Selected as member of Institutional Ethics committee of GSMC &KEMH for the period of 2015-17.
Approved PhD guide at MUHS, Nashik
D Scholar-D Y Patil University, Navi Mumbai
Post graduate diploma in hospital health care management
Bhavna Mhatre:
Felicitation by Mulligan Concept Teacher,s Association (Indian Chapter) and Capri Institute of Manual Therapy for outstanding contribution to Physiotherapy Profession, 10 october 2014, CMP conference, 2014.
Felicitation by Mumbai Branch of IAP foroutstanding contribution to Physiotherapy Profession.
Board of Studies member – MUHS.
Faculty Board – MUHS
Member of Academic Committee, Seth G S Medical College
Member of Research Society, Seth G S Medical College
Selected for FAIMER fellowship program2015
Approved PhD guide at MUHS, Nashik
Jaimala Shetye
Selected for FAIMER international fellowship in Medical education, 2016
External Faculty for FRCPT Fellowship course in Rehabilitation Physiotherapy,at AIIMPR, Mahalaxmi
Secretary, Staff society of Seth GSMC & KEMH from 2015
Member of Institutional ethics committee at Seth GSMC and KEMH
Member of Institutional ethics committee at Somaiya college of Physiotherapy, Mumbai.
Member of Board of studies at Pravara college of Physiotherapy, Loni
Approved PhD guide at MUHS, Nashik
Mariya Jiandani
Faimer Fellow 2014
Felicitation by Mumbai Branch of IAP foroutstanding contribution to Physiotherapy Profession.
Appointed as member of Steering committee of UNESCO MUHS GSMC Bioethics Unit.
Member of BOS- NMIMS-Vile- Parle College of PT.
Member representative for gymkhana Committee
Elected for the post of Asistant editor for  JPGM 2015
Approved PhD guide at MUHS, Nashik
Jyotsna Thosar
Appointed as article Reviewer for UG research papers
Archana Gore
D Scholar-MUHS
Post graduate Diploma in Hospital administration
Teacher's training course in YOGA
Lakshmiprabha Rangarajan
Paper Presentation & Poster Awards 2015:
Assessment of reaction time and percentage of accuracy for laterality recognition in health adults- A pilot study.Satej Dalvi 1st prize-UG musculoskeletal paper Award at Scientifica 2015
"Effect of body positions on Q angle measurement.Nikita Singhania-2nd prize-UG Musculoskeletal Junior paper Award at Scientifica 2015
"Co relation between core muscle activation and Dynamic Balance in health young adult population –A pilot study"Rucha Ryas-3rd prize-UG Junior paper Award at Scientifica 2015
Core activation in Obese- Apurva Atkar 3rd Prize in PG Paper presentation- Scientifica 2015
Graded motor imagery in Complex Regional Pain syndrome I & II- Satej Dalvi,1st prize in OT-PT category –Trinity 2015
Functional diagnosis how is it different. Riddhi Manjrekar 3rd Prize poster presentation, Innovation 2015.
Comparison between 12 minute walk test & 3 minute step test in normal healthy adults" Verma C.V., Vijaya Krishnan, Kamat Pooja. International Journal of Current Innovation Research, vol.1/issue 4/June 2015/pp 105-108 ISSN: 2395-5775
Lumbar range of motion: Reliability between Schober's test & modified Schober's test. Verma Chhaya, Deshpande Renuka, Krishnan Vijaya, Bakne Amol. Romanian Journal of Physical Therapy, vol. 21/issue 35/May 2015, pages 40-47
 "Work related musculoskeletal pain among physiotherapy students" ChhayaVerma, Lavanya Kailas, Vijaya Krishnan. Research & Reviews- A Journal of Health Professions, vol.5, no.3 (2015), pages 25-31.