Nurturing Ethical values…..
                                              Enriching Medical Education.
VISION:
"Establishing highest level of ethical and professional standards in health professionals education,practice and research."
Mission:
"To inculcate the basic ethical,professional and humanitarian values in medical students right from the first day of training in order to make them not only expert clinicians but also compassionate human beings."
Background History:
The 'GSMC-MUHS UNESCO Bioethics Unit' was formed in the month of August 2015. The solemnisation of the Unit under the MCGM Nodal Bioethics Unit and affiliation with UNESCO, Chair in Bioethics Haifa Australia was on 9th November 2015. The MCGM nodal unit was established at an event held in Topiwala National Medical College auditorium.
Mr Sanjay Deshmukh, Hon.  Addl. Municipal Commissioner and Dr SuhasiniNagda , Director (ME& MH) were handed over the UNESCO Charter and writ for the establishment of the MCGM MUHS UNESCO Nodal Centre for Medical and Dental institutions by Professor Russell D'Souza Head, Asia Pacific Bioethics Program of UNESCO Chair in Bioethics, Haifa.Dr AvinashSupe , Dean Seth G S Medical College received the writ for GSMC MUHS UNESCO Bioethics Unit.
The inauguration event was attended by Dr.ArunJamkar Hon Vice Chancellor MUHS, Dr.ShekharRajderkar, Pro Vice Chancellor  MUHS, Dr Susan Vize Regional  UNESCO Advisor, Bangkok. Deans of MCGM run Medical colleges: Dr AvinashSupe, Dr Ramesh Bharmal, Dr Suleman Merchant and Dr. Ramesh Chaturvedi graced the programme with their presence.
The  First students wing was formed from winners of the essay competition in bioethics (14th October 2015) .
The Formal Students wing was formed on 21st January 2016 – "Formation day of student wings"
OBJECTIVES:
The objective of Bioethics Unit is to integrate the MUHS approved UNESCO Bioethics curriculum in the undergraduate and postgraduate students education and to train the faculty in effective implementation of the same.
To introduce and deliver bioethics and professionalism training in undergraduate and postgraduate curriculum.
To prepare an updated and modern curriculum, reflecting the need for integration of ethics during the training period and for its effective implementation in clinical practice.
To increase interest and respect to values involved in health care delivery and raising awareness for competing interests. To introduce various non-medical facets of medicine: sociology, economics, and public administration to students.
To add new chapters to present curriculum that will relate to new dilemmas, accommodating medical, technological and scientific progress.
To create training programs for teachers and instructors of ethics in medical institution.
To initiate, collaborate, facilitate and participate research related to bioethics
Training:
Dr. Santosh Salagre, Dr, PadmajaMarathe and Dr. Anjali Telang  have received formal training on bioethics at MUHS in the form of the 3T (Train-Teach-Transfer) training workshop organised  in May 2015. Dr.Salagre&Dr.Marathe additionally received ETTC (Ethics Teachers Training Course) in November 2015 at MUHS.
Members:
Steering Commitee of GSMC-MUHS UNESCO Bioethics Unit – (GMUBioethics Unit)
| | | |
| --- | --- | --- |
| Dr. Avinash Supe | Chairman | Dean & Director (ME &MH) |
| Dr. Santosh Salagre | Head of Unit | Medicine |
| Dr. Padmaja Marathe | Head of Steering Committee | Pharmacology |
| Dr. Nayana Ingole | Secretary | Microbiology |
| Dr. Anjali Telang | Member | Anatomy |
| Dr. Kinjalika Ghosh | Member | Biochemistry |
| Dr. Yuvaraj Chavan | Member | Community Medicine |
| Mrs. Pradnya Nachankar | Member | Nursing |
| Dr. Padmaja Mavani | Member | Obstetrics & Gynaecology |
| Dr. Karuna Nadkarni | Member | Occupational Therapy |
| Dr. Kanchan Kothari | Member | Pathology |
| Dr. Sachin Patil | Member | Forensic Medicine |
| Dr. Venkatesh Rathod | Member | Physiology |
| Dr. Mariya Jiandani | Member | Physiotherapy |
| Dr. Monty Khajanchi | Member | Surgery |
| Dr. Swarupa Bhagwat | Member |  Transfusion Medicine |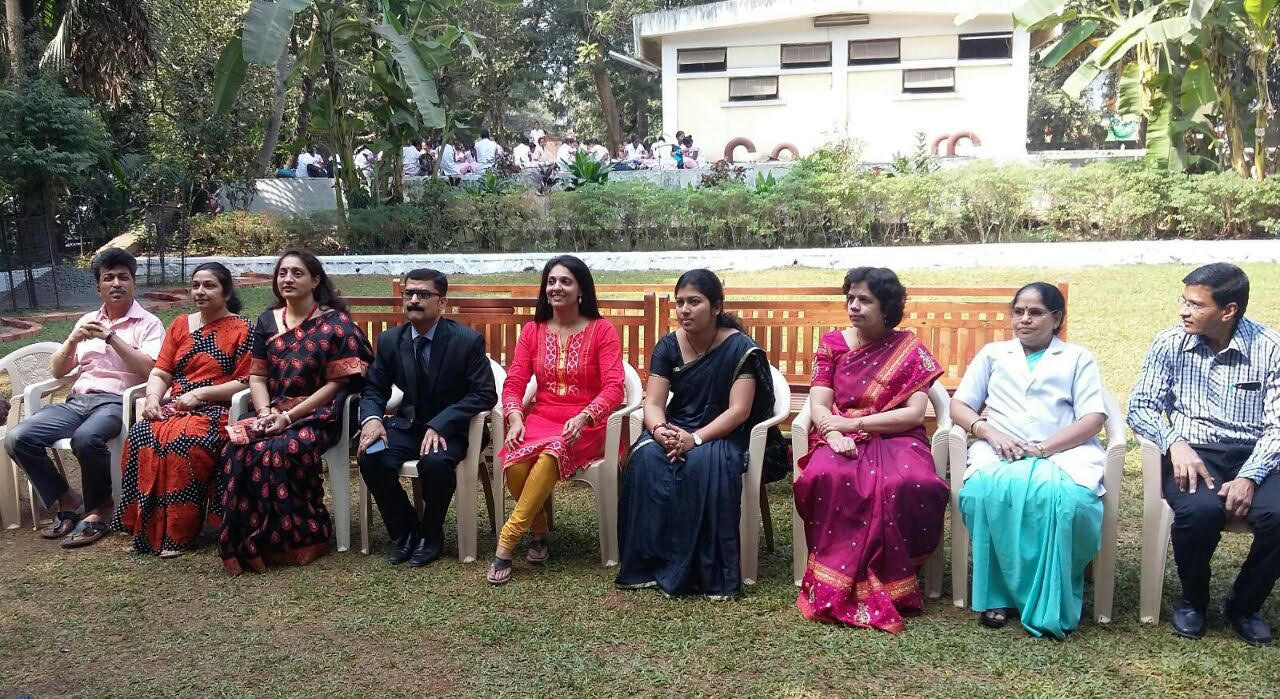 Members of Students Wing:
Priyashree Desai  

Vaishnavi R Maske

Devashree P Sane

Vishal M Parekar

Tanisha P Apte

Ekta N Patil

Rucha R Gadgil

Sayali N Kalzunkar

Prajakta S Kulkarni

Radhika D Rane

Sneha S Ghogale

Sneha E Pair

Namrata A Gawade
Facilities & Services:
Resource Library  to teach and explore bioethics  in health care services.
Training workshops in bioethics for teachers  and  students of health profession  education
Communication skills Workshops
Future Plans:
Faculty training through Teach, Train and Transfer (3T)
Ethics Teachers Training Programme
Horizontal and vertical integration of bioethics education in the curriculum
Strengthening of activities of the Unit through Student's Wing- A skit/ drama on Bioethics by students, movie discussions
Bioethics grand rounds with Medicine , Pediatrics and Obstetrics &Gynecology PG students and faculty
Research projects on Bioethics – Members and Students
Bioethics conferences and national and international programmes of students wings
Preparing Modules for Postgraduate Students.
Create a Resource bank.
"Writing, Reading and Listening Workshop" to enhance these skills in students to make them more empathetic towards patients .
News & Updates :
Bioethics Unit  Events – Sep 2016
Poster competition on Human Dignity and Human Rights.
Debate competition on Bioethical issues
Guest lecture on 'Doctors without Borders'.(MSF)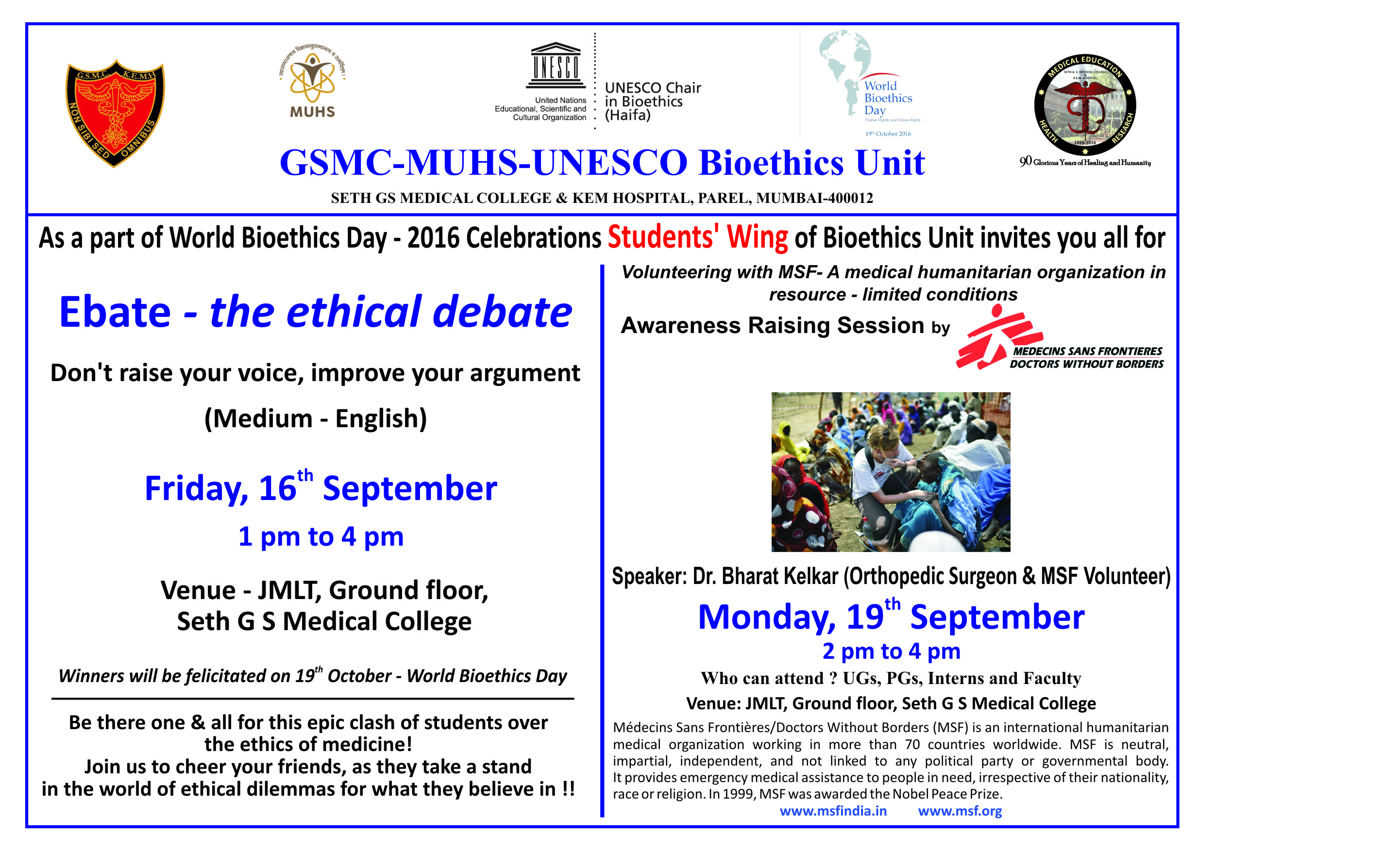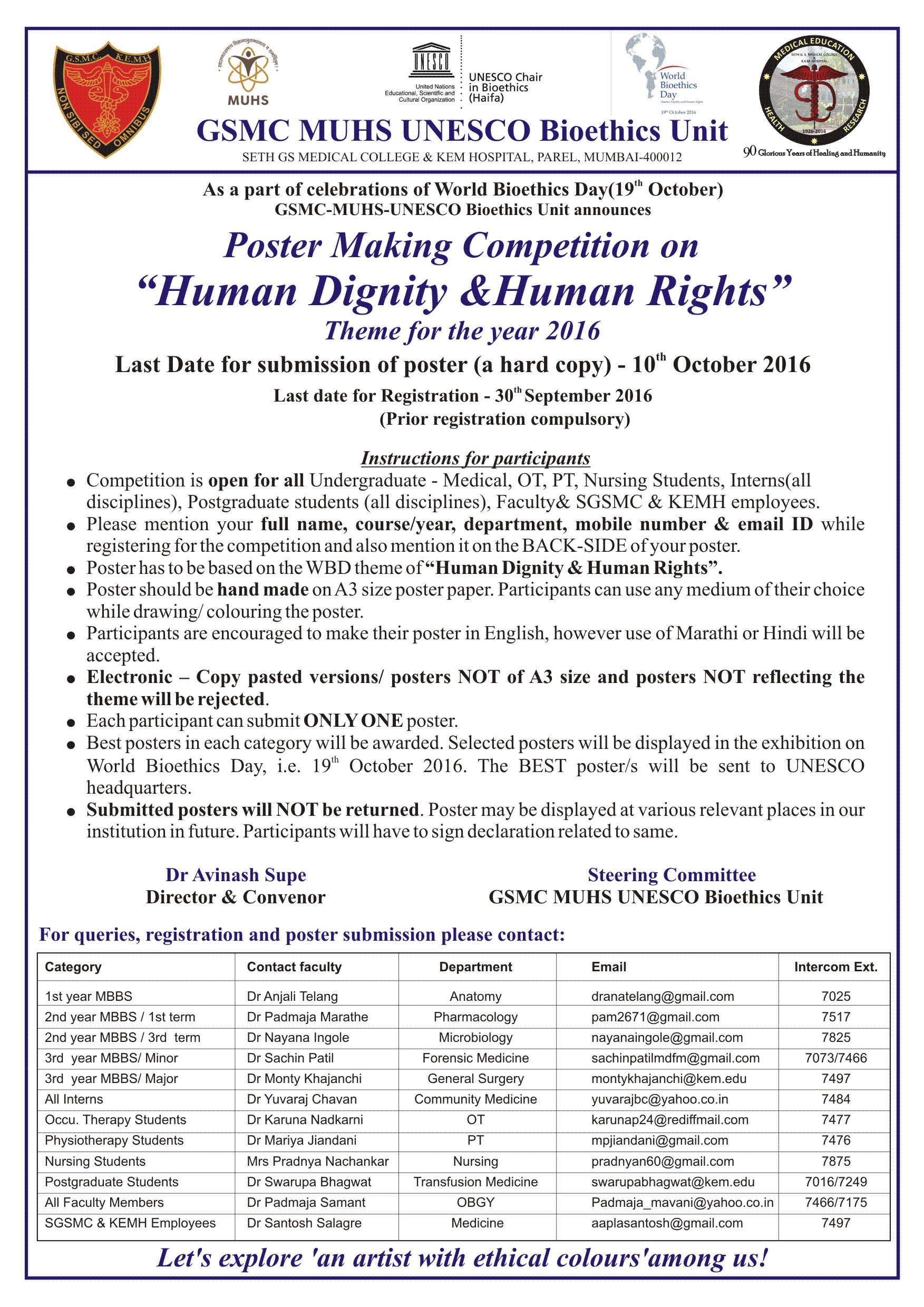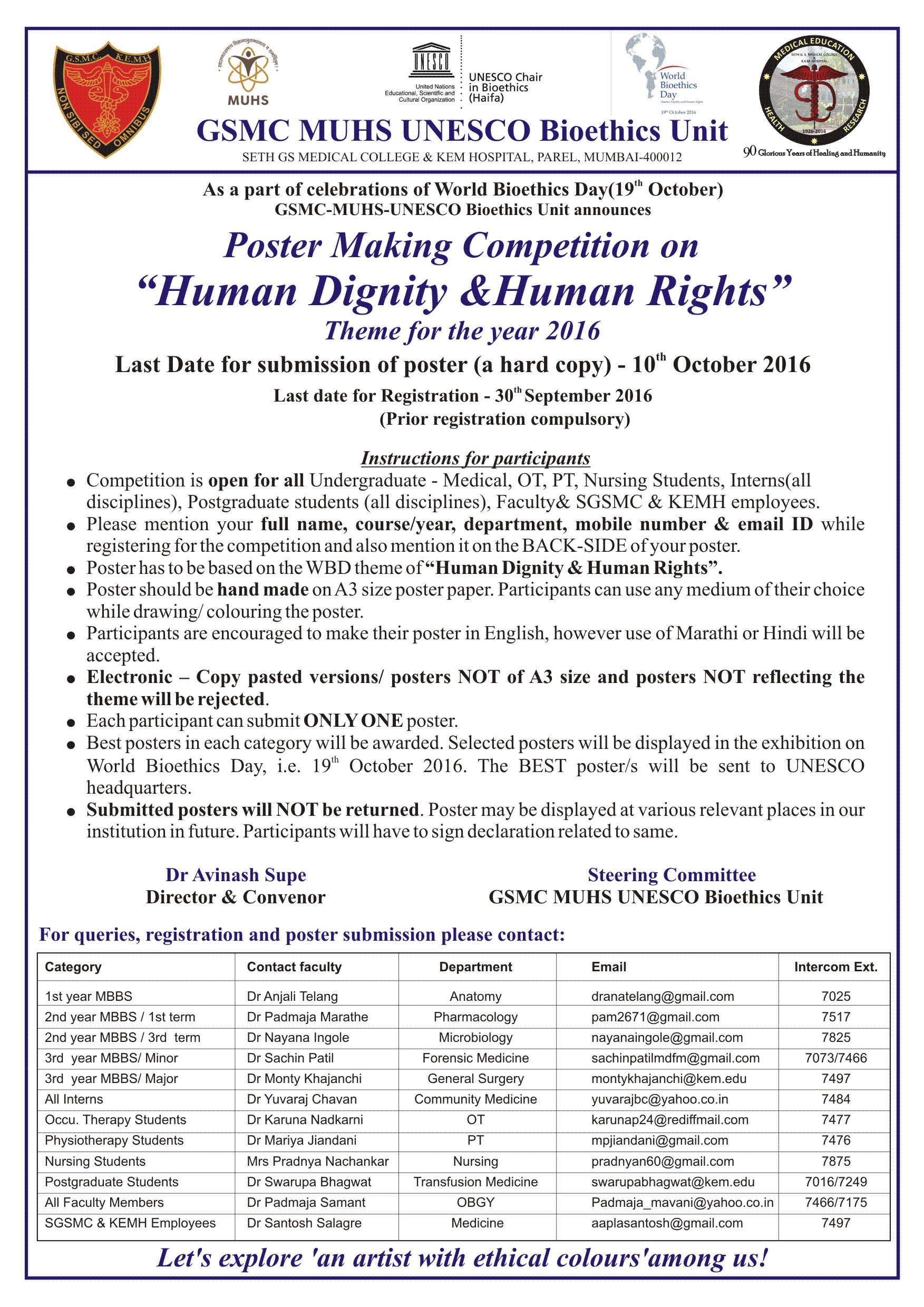 For Patients:
For Students:
Training Programmes in bioethics
Opportunities to conduct events under Students  wing
Research Projects:
The GSMC bioethics unit looks forward to undertaking research projects for students and faculty
Students Wing:
APPEAL:
All  Alumini, faculty and students  are welcome to offer suggestions ,resources and feedback.