Dr. Farokh J Master, M.D(Hom),Ph.D.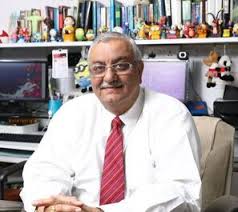 Dr.Master's introduction into homeopathy was in the year June 1976 when he joined Bombay Homeopathic Medical College, after giving up his studies at the orthodox school of medicine. In December 1979, Dr. Master passed his LCEH examination, with a 1st class in all subjects, in all the years, getting the most coveted silver as well as gold medal. He was also honoured by the then Governor of Maharashtra for an outstanding medical career. He is country's first M.D.  Homeopath. Dr. Master is also one of the first few homeopaths to have successfully completed his PhD in "Cancer Management using Homeopathy". Dr Master has been instrumental in starting homeopathic out-patient departments in many allopathic hospitals viz. Bombay Hospital, King Edward Memorial Hospital, Nowrosjee Wadia Hospital, Jerbai Wadia Hospital & Kamalnayan Bajaj Cancer Centre-Ruby Hall Clinic, Pune. Dr.Farokh Master is recognized worldwide for his immense contributions in the treatment of cancer & homeopathy. He is there recipient of numerous national and international awards and honors for outstanding contribution to classical homeopathy, cancer and homeopathy, homeopathic education and other alternative therapies. He has also authored more than 60 books translated into several international languages. In terminal cases of cancer and in the treatment of various complications of malignancy, Dr. Master has pioneered the use of lscador therapy with homoeopathy, leading to pain relief, reducing haemorrhage and increasing the periods of remission. Dr. Master's accomplishments as a physician and a teacher are remarkable but it is his work as a philanthropist that truly sets him apart. Dr. Master has been independently practicing as a Homeopathic Physician at Mumbai's Homeopathic Health Centre, with over 40 years of experience in Homeopathic consultation and treatment. Dr. Master conducts every Tuesday OPD for palliative oncology from 8 am to10 am at King Edward Memorial Hospital, Parel.
Free clinic on Saturday from 1:30 to 3:00 pm.