Dentistry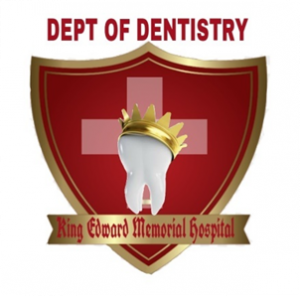 Creating and Giving the Best Smiles to Everyone
The Department of Dentistry was established in 1926.It is the oldest amongst all dental departments of the municipal corporation hospitals.From a single chair it has now progressed to 5 chairs with new chairs being acquired in the near future.Along with the routine OPD and extractions various other procedures like major and minor surgeries, root canal treatments, crowns and bridges, composite fillings, partial/complete dentures, implant dentistry are also done in the department in recent times. The department is actively involved in treating medically compromised patients. The department always tries updating its technology base to deliver the best and advanced treatment. The department conducted its second CDE program 'Dentistry & Beyond' as celebration of 90 years of KEM Hospital. The department has also started treating haemophilia patients and provides complete dental care to them.
Faculty
Our present staff is as under :
| | |
| --- | --- |
| Dr. Nanda Pai | Addln. Professor & HOD |
| Dr. Prasad Bhange | Asst. Professor |
| Registrar | 5 |
| House Officers | 3 |
Facilities
ROUTINE MORNING OPD :
Approximately 150 patients are examined everyday.
Patients from other departments are referred as well.
Diagnostic Intraoral Radiography is done every day from 10.30 am to 11am with reporting done immediately on the same day.
EXTRACTIONS & MINOR SURGERIES:
Routine extractions are done under local anesthesia on Tuesdays, Thursdays and Saturdays with appointments.
Surgical extractions, extractions of medically compromised patients and minor surgeries are done on Mondays, Wednesdays and Fridays.
Management of trauma cases and dento-alveolar fractures under local anesthesia.
Patients needing Universal Precautions are taken up on Saturdays after routine work.
MAJOR SURGERIES
Trauma
Cysts and tumors
TMJ Management
Medically compromised cases
Are taken up under general anesthesia in the OT.
RESTORATIVE, ENDODONTIC AND COSMETIC DENTISTRY:
By appointments only.
Root canal therapy.
Restorations with silver amalgam fillings,glass ionomer fillings.
Aesthetic dentistry:Composite light cure fillings.
Post root canal crowns and bridges.
ON CALL DUTIES:
The senior faculty attend calls from Telemedicine.
The Registrars and House Officers attend to dental calls from the ward regularly.
COMMUNITY DENTAL CARE:
• Reaches to the need of students from Municipal School clinic by creating awareness of oral health and maintaining oral hygiene.
• Counselling parents with their children as regards maintenance of oral health.
• Demonstration of Brushing Techniques.
• Create awareness in patients about side effects of tobacco, gutka and paan.
• Held a camp for check-up & treatment of kids of construction sites workers.
• Held a dental camp at Malwan along with other Departments like Ophthalmology and ENT.
• Held a dental examination camp at a Municipal School in Malwani.
PERIODONTAL:-
Oral prohylaxis.
Gingivoplasty and Gingivectomy.
EDUCATION AND STUDENT ACTIVITIES:
Rotation Program for Interns from Nair Hospital Dental College – bimonthly.
Clinics held in the department for 3rd year MBBS, 2nd Sem.
RESEARCH ACTIVITIES:
• Dental Management of Haemophilia patients.
• Oral Care for Paediatric patients undergoing prophylactic factor therapy.
• Awareness of Dental Implants as a treatment option based on multiple patient perceived factors in the city of Mumbai.
• Dental awareness in pregnant patients.
• Oral Health Assessment in Geriatric patients.
WORKING IN COLLABORATION WITH OTHER DEPARTMENTS:

• Anaesthesia
• Haematology
• Radiology
• Interventional Radiology
• Microbiology
• Pathology
• GI Surgery
• Cardiology
• Cardiac Surgery
• Pediatric Surgery
• Neurology / Neurosurgery
• Medicine
• PSM
• Nephrology
• Physiotherapy
• GI Medicine
• Ophthalmology
• ENT
• Plastic Surgery
• Gynaecology
• Dermatology
NEW FACILITIES:
• Use of electro cautery in surgical procedures.
• Implant placement, prosthetics for implants and full mouth rehabilitation.
• Use of equipment like apex locator, endomotor, rubber dam.
• Procured front loading autoclave for better sterilization.
SCIENTIFIC ACTIVITIES BY THE DEPARTMENT:
• 1st CDE Program on 3rd September 2013
• 2nd CDE Program on 15th October 2015 – Dentistry & Beyond.
FUTURE PLANS:
• Patient care –
1. Plan to conduct more community outreach programs and dental camps for construction's site workers.
2. Special dental care for patients afflicted with cardiac anomalies, congenital cardiac diseases and kidney diseases.
3. Chair side general anesthesia for Pediatric patients and Medically compromised patients.
• Research –
1. Haemophilia
2. Implants
3. Congenital cardiac cases.
• Campus & Infrastructure –
1. Expansion of the department
2. 5 new dental chairs and units
3. RVG Machine