Department of Neurosurgery
Background History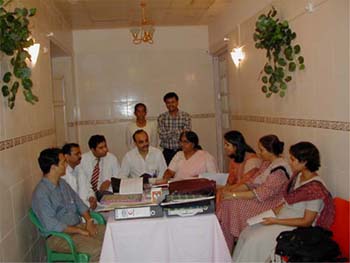 The Neurosurgery Department at the KEM Hospital is a unique department that has been built by the dedicated efforts of many stalwarts over the last fifty years.
It is draws patients from all sections of the society. Here the most high tech treatment is made available to the poorest of the poor.
The unit has always brought glory to this institution and will continue its efforts to do so in the future.
Sections Units Branches
Staff
Staff
:
Prof. Atul Goel (Head of the department) : Trained in Skull Base Surgery, USA & UK
Prof.Aadil Chagla: Special Competence in Surgery of Orbit and Spine
Dr.Trimurti Nadkarni: Trained at Phoenix Arizona, USA in advanced cerebrovascular surgery & surgery for stroke
Dr. Ketan Desai : CNS fellowship training in Peripheral Nerve Surgery, New Orleans, USA
Dr. Dattatraya Muzumdar: Special Exposure to Epilepsy Surgery, London, Ontario, Canada
Facilities, Equipments & Special services

Academic achievements:

More than 150 scientific published papers in the last ten years in
The journal of neurosurgery [USA],
British journal of neurosurgery,
Acta neurochirurgie,
Neuromedchirur[Tokyo],
Clinical neurosciences[Australia]
Most active academic neurosurgical unit in India
For Student
Training
:
M.Ch: Three registrations every year
Fellowship Courses:
Microneurosurgery
Stereotaxy
Proposed Courses
Comprehensive Epilepsy Care [Neurosurgery, Neurology]
Comprehensive Movement Disorder Management
Comprehensive Spinal Surgery [Neurosurgery, Orthopaedics]
NeuroNursing [Neurosurgery, Nursing Staff]
NeuroVascular surgery[ Neurosurgery, Interventional Neuroradiology]
Neuropsychology [Neurosurgery, Neurology]
For Patient
Other
Subspeciality development in neurosurgery KEM
:
Skull base surgery
Vascular & endovascular surgery
Spine surgery
Morphologic stereotaxy
Epilepsy surgery
Movement disorder and spasticity surgery
Peripheral nerve surgery
Craniofacial & orbital surgery
Pediatric neurosurgery 
Proposed Projects
:
Centre for Neurorehabilitation [Bank of Maharashtra]

Centre for Alternative Therapy & Research in Neurological Diseases
Musification of Wards [Lioness Club of Breach Candy]
Special Theatre for Epilepsy & Functional Neurosurgery [To be decided]
Centre for Neurophysiological Studies [EEG, Ecog, EP, MER, Intraoperative NC]
Centre for Neuroinstrumentation Development & Research [IIT, BARC, VJTI]
NeuroHelp Desk [Volunteers]
Centre for NeuroArt [JJ Arts ] [Photography, Presentation etc].
`P` Cell : Parkinsons Disease Care [Sun Pharma]
Operative Data
:
Routine 5-6 cases per day
Emergency Non Traumatic: 1-2 per day
Emergency Trauma: 1-2 per day
Endovascular Surgery: 4-5 per day
Stereotaxy:1-2 per day 
Location
Contact Detail
News & Updates
Future Plans
For Student
For Patient
Photo Gallery