Department of Physiotherapy School and Centre
Welcome to the Department of Physiotherapy
VISION:
To promote excellence in Patient care, Education & Research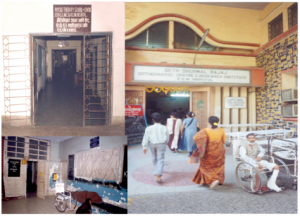 Physical therapy provides services to individuals to develop, maintain and restore maximum movement and functional ability throughout the life span. This includes providing services in circumstances where movement and function are threatened by aging, injury, pain, disease, disorders, conditions, or environmental factors. Functional movement is central to what it means to be healthy.
Physical therapy is concerned with identifying and maximizing quality of life and movement potential within the spheres of promotion, prevention, treatment, habilitation, and rehabilitation.
Physical therapists are qualified and professionally required to:
-Undertake a comprehensive examination/assessment of the patient/ client or needs of the client group.
– Evaluate the findings of the assessment to make a clinical judgment regarding the patients/clients.
– Formulate a diagnosis, prognosis and determine when patients/clients need to be referred to another health care professional.
– Implement a physical therapy intervention/treatment program
– Determine the outcome of any intervention/treatments.
– Make recommendations for self-management.
WCPT (World Congress for Physical Therapist)
MISSION:
The mission of physiotherapy School and Centre,Seth G SMedical College is to
To promote patient care with compassion and empathy.
 To provide high quality physiotherapy education  with progression to Doctrate program
To promote research and generate evidence to practice in Indian context.
Poster: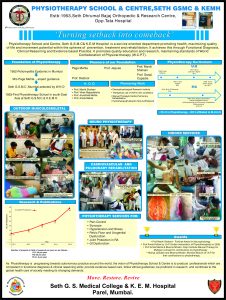 The Physiotherapy Department has its own school which conducts Bachelors and Masters Degree Programs in Physiotherapy. The Department provides Physiotherapy services for both inpatients and outpatients
News and Updates:
The Physiotherapy School and Centre College starts on 13th April 2022 To meet Dr. Jyotsna Thosar at 9 am at Physiotherapy school and center, First floor, Seth Duramal Bajaj orthopedic center, Opposite Tata hospital, Parel, Mumbai, 400012 For further details kindly contact Prof Saraswati Iyer HOD, on 9833028588.
Educational Courses: Affiliated to MUHS
Matrix Chart Academic Year 2022-2023
Eligibility Criteria:
The prerequisite for the under graduate course is HSC in science faculty and an eligible score at the state level medical entrance examination.
The prerequisite for Post graduation course is eligible score at PG CET conducted by MUHS.
The prerequisite for Ph.D course is eligible score at PET conducted by MUHS.
1.  Undergraduate: B.P.Th  – 40 seats
2.  Postgraduate: M.P.Th   –  20 seats (Total)
Specialties:
M P Th Musculoskeletal Sciences        –  08
M P Th Neuro Sciences                          –  06
M P Th cardiovascular & Respiratory Sciences  –  06
3.   Ph.D                           06 seats
Faculty
Sr.No

Name

Designation

Tel/Mobile

Email

1.

Saraswati Iyer

Professor& Head

9833028588

9sarasiyer@gmail.com

2.

Bhavana Mhatre

Professor

24463511

982171296

28bhavanamhatre@gmail.com

3.

Jaimala Shetye

Assoc. Prof.

25342811

4.

Mariya Jiandani

Assoc. Prof.

26429286

5.

Archana Gore

Assistant Prof

9082621220

6.

Jyotsna Thosar

Assistant Prof

25404391

9821066016

7.

R.Lakshmiprabha

Assistant Prof

24038801

9820218990

8.

Geete Dipti Baban

Assistant Prof

9869701464

9.

Swati Paranjpe

Assistant Prof

9820454805

swatspar@yahoo.com

10.

Sushama Bhandare

Assistant Prof

9820219984

11.

Rupali Deshpande

Assistant Physiotherapist

9960858803

12.

Shilpa Naik

Assistant Physiotherapist

9224103120

13.

Sarika Pajai

 Assistant Physiotherapist

9870556281

14.

Poonam Barchya

Assistant Physiotherapist

9967964728

15.

Shardul Ganvir

Junior Physiotherapist

9869921085

shardulpg@yahoo.com

16.

Shabana Kazi

Junior Physiotherapist

9892878640

17.

Apeksha Ingle

Junior Physiotherapist

9619722090
Non-Teaching Staff
1.

Administrative Officer

Mr. Rajesh Kurhade

2.

P A

Ms.Sujata

3.

Head Clerk

Mr. Sameer Marathe

4.

Academic clerk

 Mr.Neha Dabholkar

5.

 Typist/ Clerk

 Ms Samidha Madhav

6.

Registration Assistant

Mr. Rajesh Kadam

7.

Record Asst

Mrs. Shruti Gawde

Mr. Shreekant Lahulkar

Mr. Ashish Sagwekar

8.

Chief Librarian

Mrs. Madhuri Kochikar

9.

Asst. Librarian

Mrs. Snehalata  Ghule

10.

Store Keeper

Mr. Pramod Utekar

11.

Accountant

Mrs Manisha Telavne

12.

Account clerk

Mr. Barde

13.

Peon

1. Mr. Ganesh Aheer

2.Mr. Ramesh Karpe

3. Mr. Neelkant Gore

14.

Sweeper

Mr. Vishwas Butkar

15.

Sweeper

Mr. Sandeep Sonawane
Health Education Material
Facilities, Equipment & Special services:
Facilities:
UG (Departmental library for all UG students)
PG (Department library + Library of books donated by the department staff)
CD library for Teachers/PG students
Lecture Theatre with LCD, OHP & Slide Projector (Capacity -80)
Well Equipped Laboratories for Practice of Clinical skills
Amita Mehta:
Prof. Dr. Amita Mehta (PT): Superannuation in June 2018
Prof. Dr. Saraswati Iyer (PT)
Inspector for NAAC
Member of BOS for UG, PG courses at D Y Patil, Pune
Member of BOS for UG, PG courses at Krishna Medical college, Karad.
Approved PhD guide at MUHS, Nashik
Bhavna Mhatre:
EC Member of Academic Committee.
EC Member Research society.
EC Member Grievance committee.
FAIMER faculty.
Felicitation by Mulligan Concept Teacher's Association (Indian Chapter) and Capri Institute of Manual Therapy for outstanding contribution to Physiotherapy Profession, 10th October 2014, CMP conference, 2014.
Felicitation by Mumbai Branch of IAP for outstanding contribution to Physiotherapy Profession.
Board of Studies member – MUHS.
Faculty Board – MUHS
Member of Academic Committee, Seth G S Medical College
Member of Research Society, Seth G S Medical College
FAIMER fellow 2015
Approved Ph.D. guide at MUHS, Nashik
Jaimala Shetye
FAIMER fellow 2016
Approved Ph.D. guide at MUHS, Nashik.
Member Research Advisory Committee for Ph.D. at GSMC and KEMH, TNMC and Nair hospital
Integrated teaching for III MBBS.
External Faculty for FRCPT Fellowship course in Rehabilitation Physiotherapy at AIIMPR, Mahalaxmi.
Member of Institutional ethics committee at Seth GSMC and KEMH
Member of Institutional ethics committee at Somaiya College of Physiotherapy, Mumbai.
Member of Board of studies at Pravara College of Physiotherapy, Loni
Ex-Secretary, Staff society of Seth GSMC & KEMH from 2015 to 2017
Mariya Jiandani
Approved  PG & Ph.D. guide at MUHS, Nashik
FAIMER Fellow 2014 and FAIMER faculty.
Head of GSMC MUHS International Chair Bioethics unit.
Associate Editor, Journal of Post Graduate Medicine
Editorial Board- Physiotherapy Journal of IAP
Member Board of studies, Allied Health, MUHS Nashik
Faculty, Allied health Sciences, MUHS, Nashik.
Convenor Mumbai Branch of IAP
Member RAC for Ph.D. at GSMC and KEMH, Somaiya college of Physiotherapy and LTMMC and LTMGH
Vice President of Gymkhana committee for Physiotherapy.
Felicitation by Mumbai Branch of IAP for outstanding contribution to Physiotherapy Profession.
Ex Member of BOS- NMIMS-Vile- Parle College of PT & MGM College of Physiotherapy.
Dr Swati Sakharam Paranjape
Dr Swati Sakharam Paranjape, from Physiotherapy School and Centre, Seth GSMC and KEMH has been awarded Doctor of Philosophy by SNDT Women's University on 2nd May 2022, in interdisciplinary faculty in the subject of Educational technology.  Thesis titled "Effectiveness of Peer-led Approach to Case-based Learning in Physiotherapy Education with respect to Composition of the Groups."
Dr. Swati Paranjape Won the "IESRF Reviewer award" at 5th National Editors Summit 2023 by Innovative Education and Scientific Research Foundation; held at NDMC Convention Centre, New Delhi Dated 18-19 March 2023.  Presented paper "Peer Learning in Health Sciences: Exploring Pedagogy A Conceptual Review. Co-authored by Dr. Madhavi Dharankar
1. Presented paper titled "  Measurement Properties of the cross-culturally adapted & translated version of the Neck Disability Index in Indian Languages: a systematic review" in International Physiotherapy Conference " KJ Somaiya Physiotherapy Academic and research Conclave" on 12 th January 2022.
2. Presented paper titled " Cross-Cultural Adaptation, Reliability, and Validity of Hindi Version of Neck Disability Index in Patients with Chronic Neck Pain" in Scientifica 2022: International Research  Conference on 12 and  13 th March 2022. 
Invitation as guest speaker and CME Webinars attended by Physiotherapy faculty in 2021-22
Dr. Jaimala Shetye (PT)
Physiotherapy conference online 12th Jan 2022
Post covid rehab Webinar arranged by MGM college of Physiotherapy Navi Mumbai 18th sept 2021
Invited speaker Scientifica organised by Sancheti hosp of Physiotherapy on 12, 13 march 2022 Cardiopulmonary rehab conference organised by Ahemdabad college of PT 
Won 1stprize in paper presentation by PG student at Scientifica international PT students conference 'Lung function in subjects with and without forward head posture' by dr. Mohini Kamat (MPT)

Invited speaker in webinar on 'Art of answering MPT theory papers' by MGM college of Physiotherapy, Aurangabad.
Dr. Mariya Jiandani (PT)
Singapore Prevention and cardiac rehabilitation symposium
FAIMER Global Forum
National conference for Health Professions education
International physiotherspy conference Somaiya college of PT
Chairperson for scientifica 2022 cardiorespiratory papers
Dr. LakshmiPrabha R (PT)
Authored a Chapter "Cognitive Dysfunction and Physiotherapy" in the book Physiotherapy in Neurological conditions.( released  on 16.4.22 )
Chairperson for a panel discussion "Role of Mirror neurons in Neurophysiotherapy " at Scientifica, an international conference on 11.3.22.
Our paper titled "Effect of  Random, Blocked and Mixed Practice order on Motor Learning in subjects with Parkinson's disease" presented by my PG student Sneha Kini in Rehab-E- Con, International conference by MGM Aurangabad in Feb 2022, won 3rd prize.
Dr. Sushma Bhandare (PT)
Talk on "Physiotherapy at work – A step towards positive lifestyle" for teachers of AVM school, Bandar, 18th Jan 2022
2. Physiotherapy health check-up camp for teaching and non-teaching staff of Pawar Public School, Chandivali with Community medicine department. accompanied by a Lecture on physiotherapy exercise and ergonomic advice. 23rd March 2022
3. Authored for chapters in Book on "Physiotherapy in Cardiopulmonary Conditions"  April 2022
  (a)   Physiotherapy in Cardiovascular Surgery
(b)   Physiotherapy in Pulmonary Surgery
4. CME – NIPC series (Ireland)
    (a) New Frontiers in Heart Valve Diseases 4th Feb 2022
    (b) Women's Heart Health 8th March 2022
Comparison between 12 minute walk test & 3 minute step test in normal healthy adults" Verma C.V., Vijaya Krishnan, Kamat Pooja. International Journal of Current Innovation Research, vol.1/issue 4/June 2015/pp 105-108 ISSN: 2395-5775
Lumbar range of motion: Reliability between Schober's test & modified Schober's test. Verma Chhaya, Deshpande Renuka, Krishnan Vijaya, Bakne Amol. Romanian Journal of Physical Therapy, vol. 21/issue 35/May 2015, pages 40-47
 "Work related musculoskeletal pain among physiotherapy students" ChhayaVerma, Lavanya Kailas, Vijaya Krishnan. Research & Reviews- A Journal of Health Professions, vol.5, no.3 (2015), pages 25-31.