Anaesthesia essentially was considered as freedom from Pain. Over the years, numerous developments in this field have changed this perception and Anaesthesiologists have evolved from the four walls of the operating room to become Critical care physicians as well as Pain Medicine Consultants. The department of Anaesthesiology at KEM Hospital has kept up with the ever growing technology and responsibilities which comes with it and has branched into many sub specialities. Fellowships programmes available in Neuro, Gastroenterology, Pain and Regional Anesthesia services. Fellowships in Difficult Airway and Obstetric Anaesthesia are also in the pipeline. 12 bedded Perioperative Intensive Care Unit is now functional. Pain OT is going to start soon. Anaesthesiology at KEM hospital has progressed from a very small department to one of the biggest departments not only in the institute but also in Asia.
Cardiac and Paediatric Anaesthesia are now separate departments and run their own courses and fellowships.
Dr. Moksha Madan Desai was the first honorary anaesthesiologist to join this institution in 1925 followed by Dr. B. N. Sircar, Dr. G. S. Ambardekar and Dr. Y. G. Bhojraj who contributed tremendously towards the growth of this department. In 1963, due to increasing demands for full-time faculty members, Dr. A. J. Dhruva was appointed as 1st professor, to head full time department of Anaesthesiology in India. Since then, following people have been heads of this vast department viz; Dr. A. J. Dhruva, Dr. M. M. Bhatt, Dr. D. B. Deval, Dr. A. M. Katre, Dr. L. D. Naik, Dr. L. S. Chaudhari, Dr L. V. Dewoolkar, Dr. Sarla Pandya. Dr. M. B. Garasia and presently by Dr. Indrani Hemant kumar Chincholi. Currently the department is headed by Dr Amala G. Kudalkar
At present, the department caters to 43 operation tables/areas simultaneously.
Poster: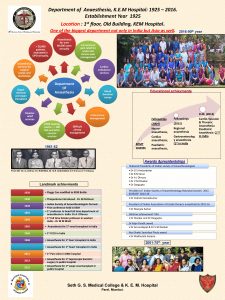 ---
Strength of Department:
---
Sections Units Branches