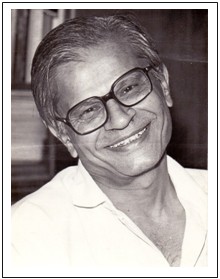 It has been a common experience that medical practice is all science and technology and humane perspective is completely missing. This has led to lot of dissatisfaction, distrust and yearning for benevolent humane doctor to give a sense of "all is well". Unfortunately, the medical curricula do not cover art of medical practice. We had amongst us a living role model Dr.ManuV.L.Kothari, who showed path by his thoughts, words and actions – "who is a good doctor?"
On passing away of Dr.Manu Kothari on 16th October 2014, members from medical fraternity felt that we need to have humanity in medical sciences. They desired to institute a Chair of Medical Philosophy in the name of Dr.ManuV.L.Kothari as best way to nurture Sir's philosophy of life. Dr.Manu Kothari has left behind countless students who will treasure his thoughts and behaviour on medical humanity and their experiences forever and the memory of being in his association. Therefore, "Dr.ManuV.L.Kothari Chair of Medical Humanities" has been instituted at Seth G.S.Medical College on 23rd January 2016. Dr.SunilKrishnalalPandya, Ex.Professor& Head of Neurosurgery Deptt. of Seth G.S.Medical College & KEM Hospital, is nominated as Chairperson of the Chair and Division of Medical Humanities since then.
Dr.Manu Kothari was a learned scholar, committed academician, most loved teacher by students, a medical philosopher, an author of many books (translated in many languages) and national and international publications on topics like Cancer, death, medical philosophy etc., worked for the institution from the day of joining the institution as a student till he passed away at the age of 79 on 16th October 2014. He has been highly respected amongst students, teachers, medical fraternity –nationally and internationally. He was a friend, philosopher and guide for one and all – all categories staff –teaching and non-teaching and students.
The division on medical humanities commenced its activities after considerable soul-searching and trepidation.
Our medical students and resident doctors are pressed for time. They work hard and over long hours. The students are also burdened by the need to perform at examinations. To do so, the common perception is that attendance at coaching classes outside the college is obligatory. These classes encroach on whatever little free time they have under the existing system.
Large numbers of patients, financial and other handicaps in treating their illnesses and consequent frustrations can cause burn out in young and impressionable minds. They may also result in difficulties in seeing the human beings who are now presenting as patients, their anxieties, fears and special needs.
Our study of the lives of the great physicians of the past and the manner in which they cared for their patients with empathy, concern and generosity, using means that embodied ethical principles, can serve as a corrective, inspiring us, in turn, to treat our patients in a similar manner.
The humanities also enable us to cultivate the attitude that summed up the philosophy of Antoninus Pius, 'the best of men and wisest of Roman emperors' (Sir William Osler), who, on his deathbed, pronounced 'Aequanimitas' as his watchword. Equanimity – calmness and composure especially in difficult situations – helps us meet every aspect of human relationship appropriately, firmly and courageously without hardening the human heart by which we live.
The humanities enrich us and in doing so, also improve our care of those who form the very reason for our entering the profession of medicine.
Various programs are being held under the aegis of "Dr.Manu V.L. Kothari Chair of Medical Humanities" such as guests lectures of eminent personalities in medical field, workshops etc. These rare programs are available on "Dr.ManuV.L.Kothari Chair of Medical Humanities You Tube Channel" for the benefit of everyone interested in this field.
A conference "Ascension-Step Above" is being organizedevery year with various themes. Rare workshops are held to encourage students and resident doctors to spread their wings. Instead of limiting thought and action only to the field of academic and clinical medicine, we can enrich students' lives by fostering and developing interests in such fields as the arts, philosophy, a study of the history of medicine, sport and a determination to stay true to the two principles enunciated by Gandhiji – satya and ahimsa in their broadest sense?
For past two years there is an annual publication containing selected essays on a topic of interest. Every year, the focus is on one theme like "History of Medicine", "Interpersonal Relationship" etc..The Editor is Dr.SwarupaBhagwat, Professor, Transfusion Medicine, SethG.S.Medical College & KEM Hospital. This volume is available at the institution.