The Seth G. S. Medical College, Library was established in 1926 when the College started functioning. Year after year it made a steady but good progress. From 1300 books transferred from Royal Asiatic Society, now it has grown into collection of 25,981 Medical Books & 31,956 bound volumes. It receives about 136 periodicals yearly on various Medical subjects.
Chief Medical Librarian :
Mrs. Madhuri S. Khochikar
B.Com, M.A., M.L.I.Sc.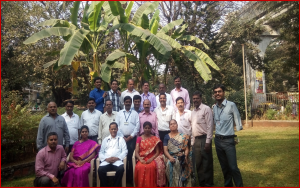 Library staff
Facilities, Equipments & Special services
Library Facilities
Reference Section – Latest editions of books & newly arrived periodicals are arranged alphabetically & made available to be read in library premises.
Home Lending – Older editions of books and journals arrived before one month are issued for home reading to staff and post-graduate students.
Audio-visual facility – A separate section having audio-visual equipment is made available for students and staff.
Photocopying facility – Available to all on payment.
Inter Library Loan – Reciprocal arrangement for sharing the resources of the libraries in Mumbai is made available to students and staff of Institute.
SLIM 21 AND WEB OPAC – Books catalogue is available on intranet on Web slim OPAC, i.e. online public access catalogue
Library has a separate section for internet search at the ground floor. (Charges – Rs. 10 per hour).
Book-Bank facility – Books are issued to undergraduate students from lower socio-economic strata for one year for study at home.
Y.D.M. Home lending facility – Latest editions of books are issued to undergraduate students for 15 days on nominal membership fees.
GOSUMEC ALUMNI MEMBERSHIP : Past students of the Seth G. S. Medical College, and staff members who had worked in Seth G. S. Medical College, are allowed to become members of GOSUMEC ALUMNI ASSOCIATION. The members of the Association are allowed to use the Library for reference work.
Corporate Membership : Pharmaceutical Companies and Other Institutions, which have inerest in refering the library material, are allowed to use the library on payment of Rs. 5000/- per year, towards, Seth G. S. Medical College & K.E.M. Hospital Department Development Fund.
Three reading rooms are open for 24 Hrs.
Library Holdings
A. Central Library:
Total Area-3200.58 Sq.mtr.
Total No. of Books – 25,981.
Bound volumes – 31,956.
Periodicals(Foreign & Indian) – 143 (115 International+21 National).
Budget expenditure for Jr. & Bk.- Rs.3,50,00,000/-
B. Cataloguing indexing system: Card cataloguing based on AACR2, it is computerized from 1994, software used -SLIM21(Author & Subject wise)- Available
C. Microfilm reading facilities/Medline: Medline is available free of charge on Internet.
Meddler/Video tapes, T.V, V.C.R., V.C.P., Audio Tapes:-
Video Cassettes :- 84
Audio Cassettes:- 330
Slides :-on 15 Subjects.
C.D.Rom:- 644
D. Internet Facilities:- Available
E. No. of Computer:- Total 15 NOs, 20 Nodes.
F. Whether qualified Librarian appointed: Yes
Audio-visual Material : Audio & Video Cassettes, Slide sets, Video tapes and CDs on various subjects.
Acland Anatomy
Clinical Key
OVID MD
Proquest
UPTODATE
Thieme e-books
BMJ-Case Report
ERMED Consortia from NML
For a listing of our complete Periodicals holding
Library Users
Category
Approximate Nos
Undergraduate Students :
(M.B.B.S & O.T.P.T)
1500
Post-graduate Students :
500
Full-Time Teaching Staff :
500
Honararies ,Research Students & Nursing Staff :
50
Outsiders :
100
G.Library Timings
| | |
| --- | --- |
| Monday to Friday : | 8.00 a.m. to 10.00 p.m. |
| Saturday : | 9.00 a.m. to 8.00 p.m. |
Closed only on O.P.D. Holidays.
Reading facility out of route library hours:- Three Reading Rooms Open for 24 hours.
H. Medical Databases: Six databases subscribed and available on Intranet & Remote access is also available for users having valid ID card.
Library subscribes to many online databases and link to search them is given through intranet – gsmc.edu
Clinical Key
Clinical Key Student
OVID MD
Proquest
UPTODATE
Thieme e-books
BMJ-Case Report
ERMED Consortia from NML
JAMA Evidence
NML ERMED Consortia
I. Online Journals:- More than 2000 journals are available on Internet through medical databases As a part of Interlinking medical libraries of India, we have got Consortia Membership from National Medical Library.
J. Online Books- More Than 2000 E-Books are available on Intranet through
Clinical Key
Clinical Key Student
Proquest
Ovid MD Medical Databases.
Thieme E books.
Access Medicine
Useful Links